Jasmin Reese Interiors is a Chicago-based Residential Luxury firm that also services Naples, Florida.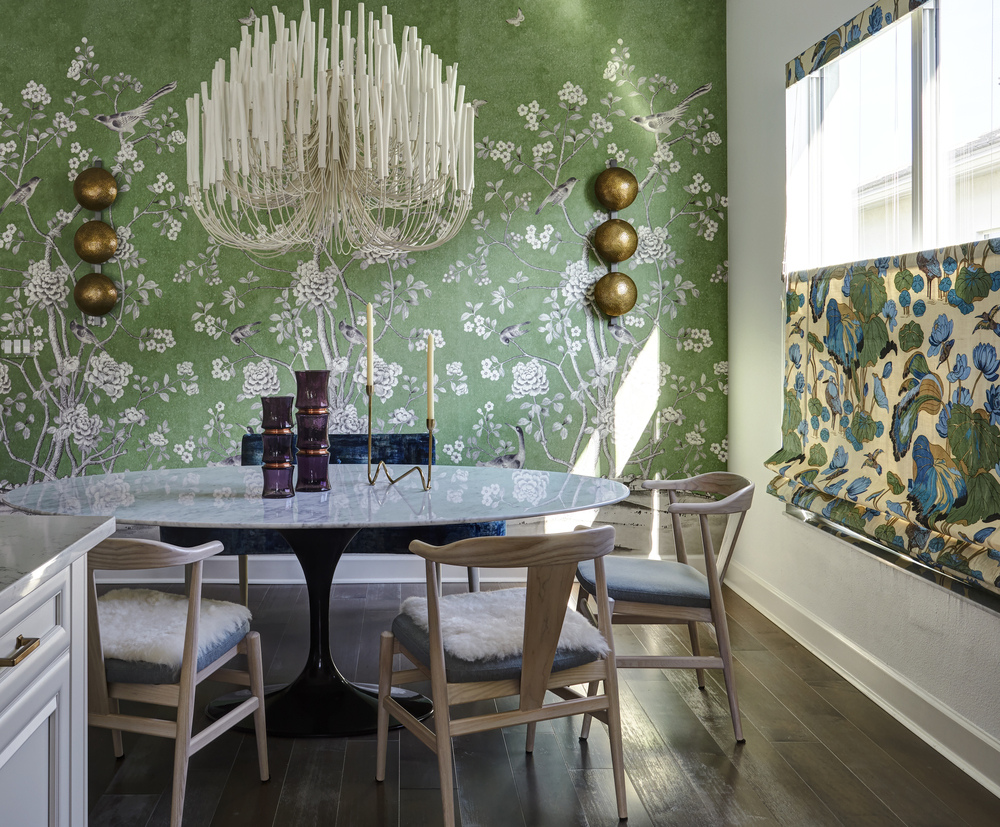 Photo Credit: Michael Alan Kasket
Jasmin Reese, founder and Principal at Jasmin Reese Interiors, recently discussed her design philosophy with Haute Design.
Haute Design: You are based in Chicago but you do plenty of work for Naples and South Florida region. What would you say are the biggest differences in designing for either area? 
Jasmin Reese: For the most part, homes in Naples appear to be second or third homes, so the client is able to do something a bit more fun or perhaps something a bit out of their comfort zone that they would not have been able to do in previous occasions. This freedom to take design chances can translate into bold looks or finishes, furnishings that are more luxurious and beautiful, without the constant worry of "resale," or finishes getting "worn out" too fast.
Chicago is known for a neutral and gray palette generally but that would not describe my projects or my clients, for the most part. I try to introduce styles that would resonate with the client. My instinct is blending antiques with modern elements, dark elements mixed with light, feminine tones contrasting with masculine, high and low, as well as fully-encompassed rooms of color.
HD: Would you briefly explain your "Style Sessions" with clients at the beginning of each project?
JR: The process begins with a 15-minute discovery call to learn about general requirements. This is followed by a paid initial consultation within the space to establish the client's wish list. The next meeting is a fully-collaborative style session between me and the client. Throughout the meeting, we work together to establish principal design requirements, a budget and a general time table for the project. This is the most important meeting throughout the entire process and I make a point for all decision-makers to be present. Throughout the meeting we also establish a presentation date, which my team and I commit to arrive prepared with samples, floor plans and an itemized budget.
HD: How would you describe your design identity?
JR: As an artist, I am very passionate about our design projects and I strive to push the ideas as far as the client is willing to go. That said, I am also a business owner and I have to manage the team, client expectations, vendors, project completions, etc. So, my identity has to balance between the left and right side of the brain at all times.
HD: To what do you attribute the success of Jasmin Reese Interiors? 
JR: Right away, I think of my mother, who went from having a tiny shop in a terrible parking lot with a small business in Rhode Island, to running one of the best gift shops in the state, with loyal customers, great staff and a robust business. Personally, I think for our Chicago clients, having a brick and mortar shop and office is very important and it allows us to engage with clients and build trust within the community. I am also very lucky to have an amazing team of talented designers, who are creative, smart and kind. I thoroughly enjoy going to work, and although we work in a bit of a tight office space in the lower level of the shop, we all have a mutual respect for each other and there is no drama. The only drama we want is from the interiors of the homes on which we work!
HD: Where do you see your firm in the next five years?
JR: I see Jasmin Reese Interiors with a strong foothold in Naples and with a larger team in Chicago. We will have multiple project managers so that I can do what I do best, which is design.