Founder and Principal at hb+a Architects, Hafsa Burt, is passionate about environmental and ecologically-aware architecture and design. In fact, Burt adopted the 2030 challenge over a decade ago. But how does her ecologically-conscious work translate to her own health and well-being?
Photo Credit: Doug Birnbaum
Hafsa Burt recently took the time to discuss matters of well-being and health with Haute Design.
Haute Design: Being successful in any line of business takes plenty of sacrifice and even more time. In the field of design and architecture, "work hours" are not necessarily uniform or standard. How do you find ways to make time for yourself?
Hafsa Burt: It isn't easy. I certainly can't work out every day, but I try to schedule it on my calendar. I realized early on that if you're not taking care of yourself, the demands of your business and life will take a toll on your health and well-being and you may become a nuisance to be around. I worked for larger firms before starting my own business and noticed many unhealthy lifestyle patterns in my senior colleagues, which resulted in a tense work environment. I try to use holistic therapies such as sauna, cryotherapy and acupuncture as needed. I also take care of what I eat to stay in optimum health in order to meet daily demands. A three-minute cryo session or a 30-minute sauna are easy to squeeze into my schedule.
HD: The topic of self-care has become ubiquitous in the past two years, in large part due to the pandemic and its consequences. What was the biggest lesson in self-care you came away with after lockdown?
HB: One of the biggest lessons from the pandemic is that life is fragile and given the consequences of globalization and climate change, our lives can transform drastically overnight, and with that, certain industries and businesses can become obsolete, leaving a lot of families economically vulnerable. Therefore, measures for resilience and flexibility in both the personal and business world need to be at the forefront of everybody's mind. The age-old notion of filling your cup so that you can be there for others has never been more relevant. Also, in the age of information, carefully editing what enters your mind can do wonders for your well-being.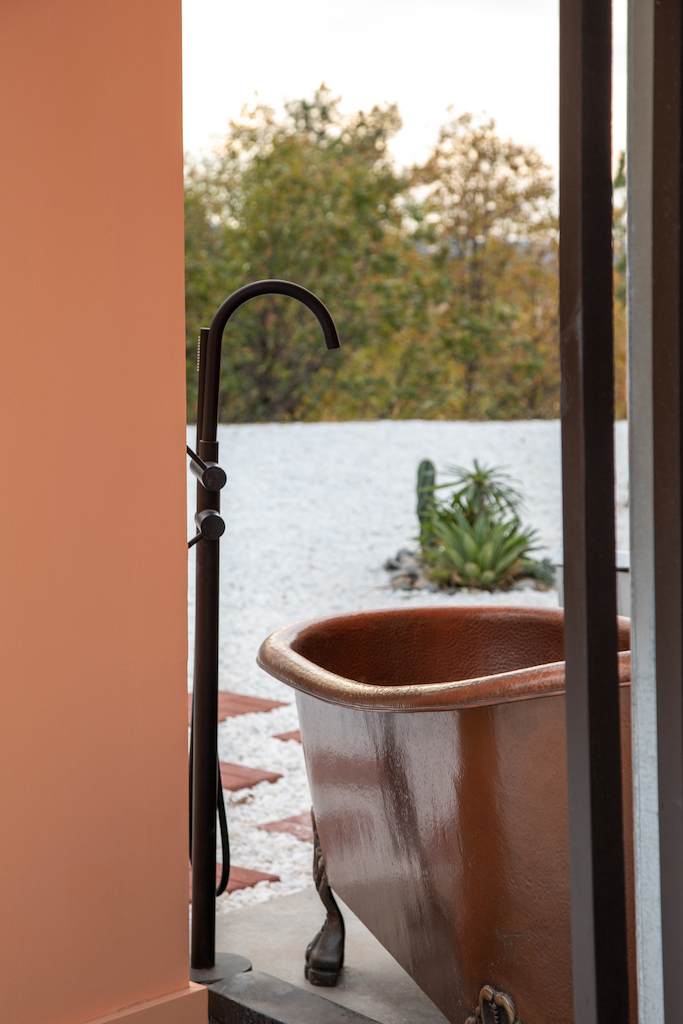 Photo Credit: Doug Birnbaum
HD: In fields like design and architecture, which require so much creativity and perspective from the designer/architect, is the work partially an extension of yourself? If so, how much do you value your rest or solitude? Do you have any practices you recommend in order to rest and recover at the end of the day?
HB: I would love to be that parson who can fall asleep on a tour bus or in an opera performance! At the end of the day, I read fiction or historical biographies. It's a great way to give my mind a break from business activities and to enter someone else's imagination. I am just as careful about what I let into my mind as I am with what I eat. I also paint and sculpt to give the left side of my brain a break, which I wish I could do more often. In the middle of the day, a 30-minute spinning session can also be a good break to allow oxygen into the bloodstream and come back more focused and refreshed. I tend to use these techniques more than caffeine.
HD: Does health and wellness go hand in hand with design consciousness and ecological practices? If so, how?
HB: Yes, of course! Everything starts with the individual. I strongly believe that our spaces can contribute to our physical and mental health. Besides products specified in a project, access to daylight and positive air flow can all contribute to our well-being. Deliberate design choices that include green belts/corridors in our developments to allow access to nature, filter the air, are conducive to walking and biking, all create healthier micro-climates. Since the outdoor/indoor environment can be very polluted, we need to be careful about what we put into our bodies to cope with external stressors in order to remain in optimum health and focus on all the great socio-environmental work.