This stunning showpiece home is an excellent example of Centaur Interiors' concept-to-completion capabilities.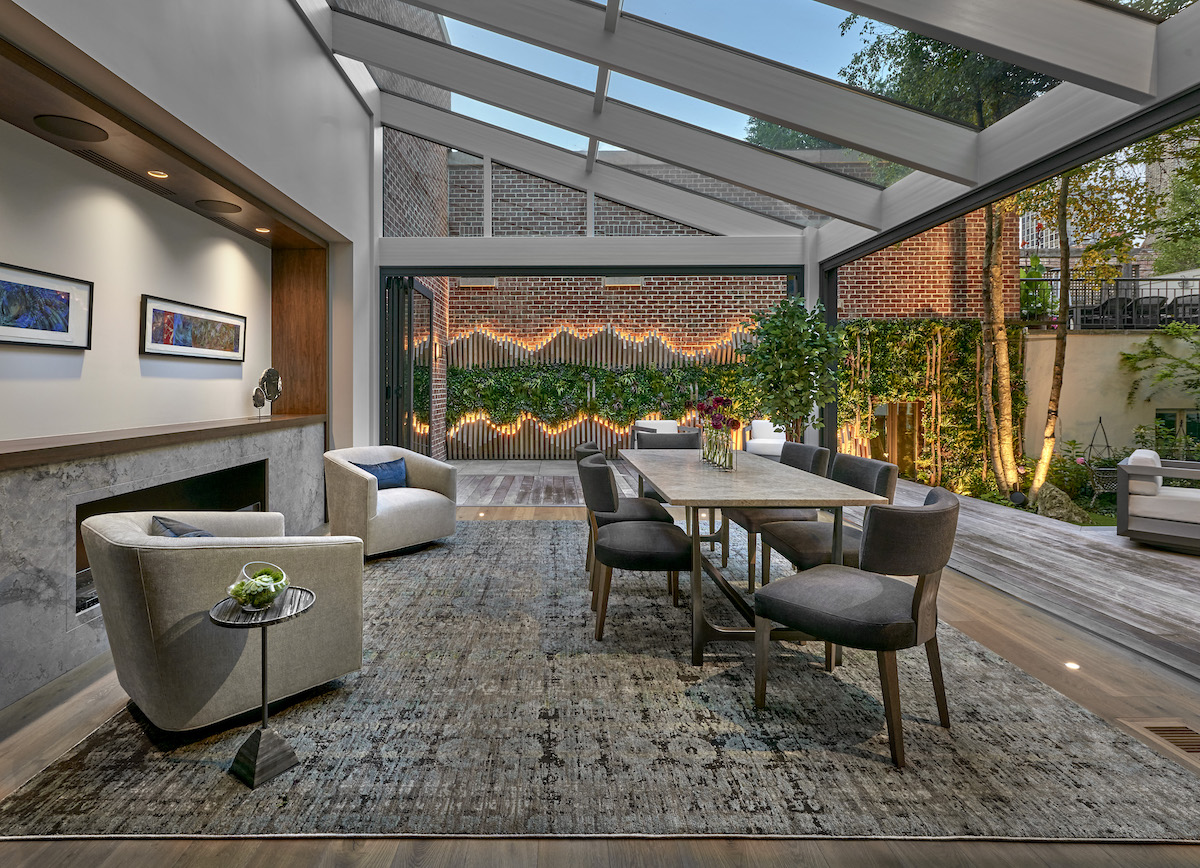 Photo Credit: Centaur Interiors
"I have a 15-year relationship with this client, this is actually my third project with them. This is their forever home." CI founder and Principal, Michael Miller, walked Haute Design through this unique and comprehensive project.
Located in Chicago's prestigious Lincoln Park area, this initially unassuming home offers so many unique and custom aspects that very few, if any, Chicagoans can brag about. Thanks to its generous double-long and double-wide lot, there was plenty of space for Michael and his design team to consider. Centaur Interiors executed this entire project from conception to the final decorative details. This includes build, architecture, design and even artwork.
"There are not many indoor/outdoor living situations in Chicago," Michael added. "But because their home has this unique backyard space, we wanted that to be integral to the design. We tore down the original sunroom and built a new one made entirely of glass, where all the sliding door systems open up to this back courtyard."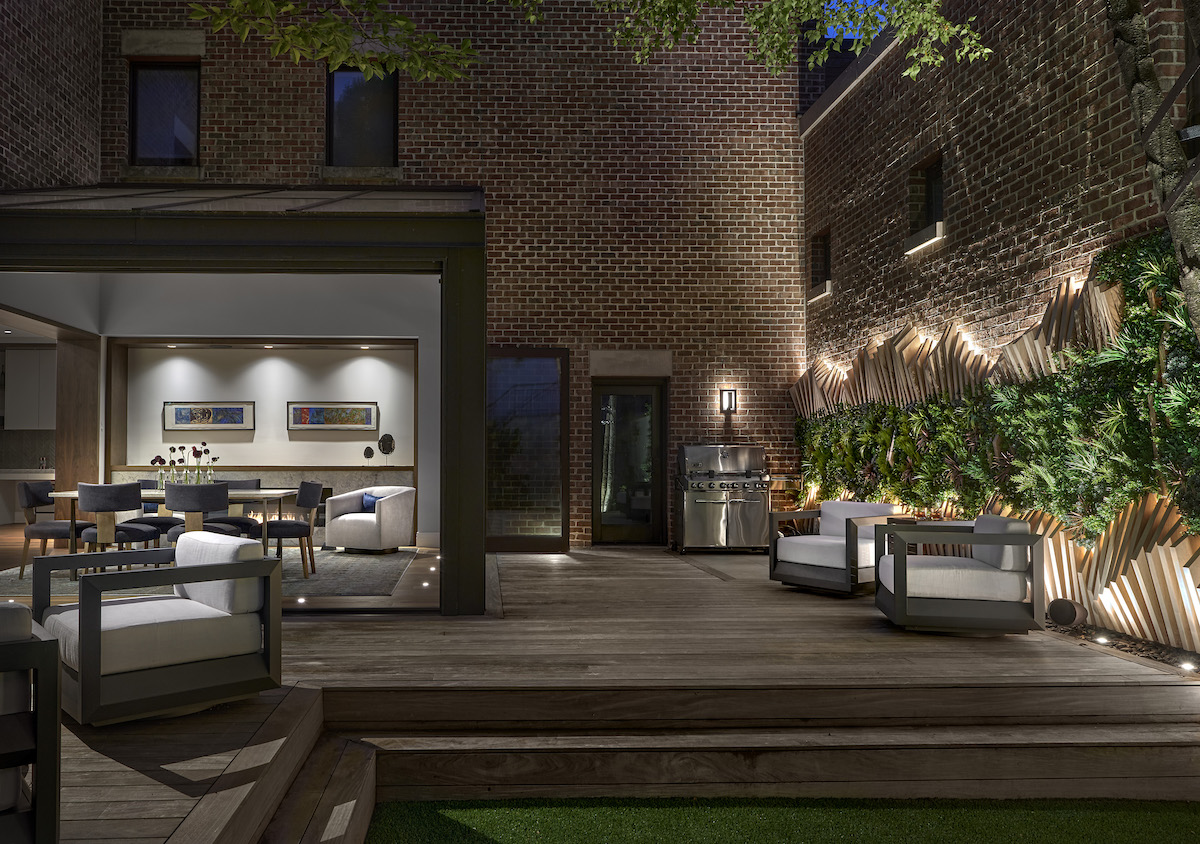 Photo Credit: Centaur Interiors
The unique millwork and lighting seen in the borders of the courtyard is meant to resemble artwork. Since this part of the exterior is visible from the kitchen and sink, CI's design team thought it would be great for the residents to see something beautiful year-round.
"The clients are big cooks," Michael continued. "So, the kitchen was the centerpiece of the home. We created a centerpiece kitchen that's made for two people to comfortably work together. I believe there is a six or seven-foot galley dual tap sink, which allows you to work side by side. Directly alongside that is what we call the baker's kitchen with its own sink and dual oven. Additionally, there's a bar area for glassware, wines and spirits. We broke the kitchen down into three spaces which allow for simultaneous and undisrupted entertainment."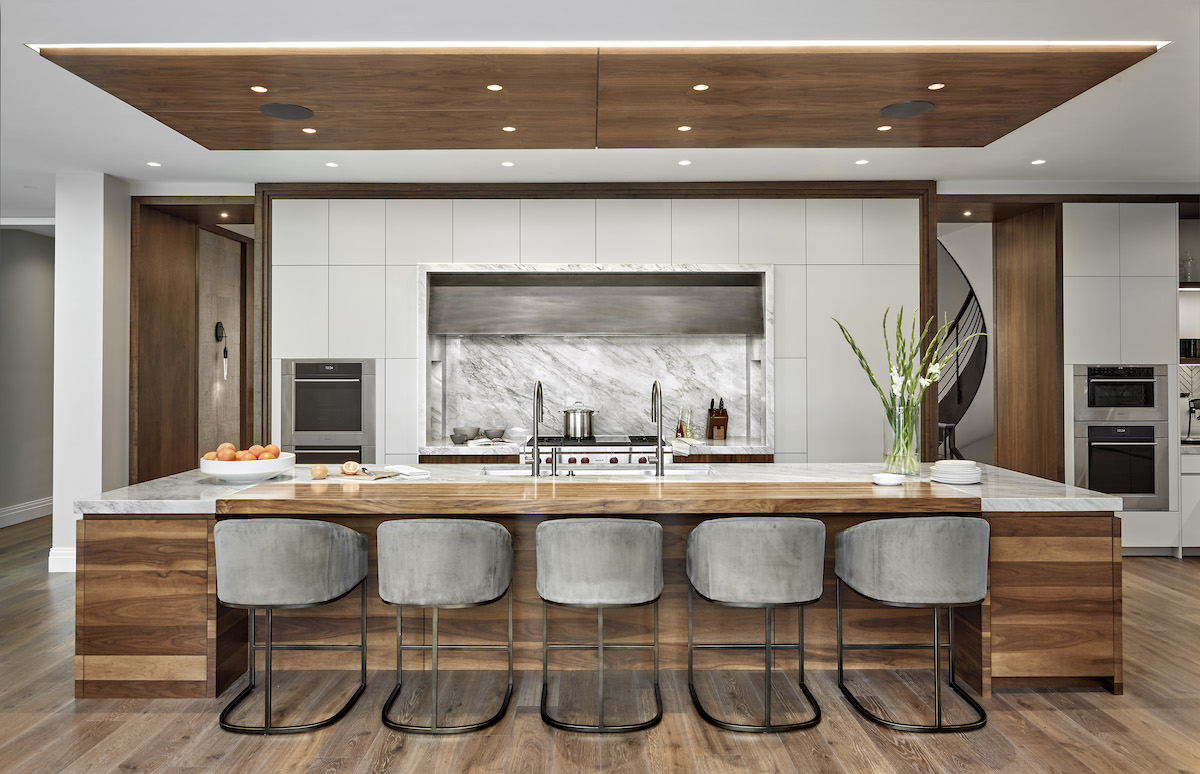 Photo Credit: Centaur Interiors
Being one of the focal points of the home, it was fitting that the kitchen be so perfectly symmetrical. In fact, throughout the entire home, the concept of symmetry was of utmost importance to CI's design and architecture teams. This symmetry provides a harmonious sense of balance which can not only be seen, but felt. Another great example of symmetry lies within the master bathroom.
The wall where the master bed sits is the same in which the master bathroom's vanity is located. This allows for a seamless design which considers two separate entries for him and her in their corresponding sides of the bathroom and closets as well. While there is a his and her portal to the bathroom, the hand milled stone, shower and tub remain dead center of the bathroom to ensure that sense of symmetry.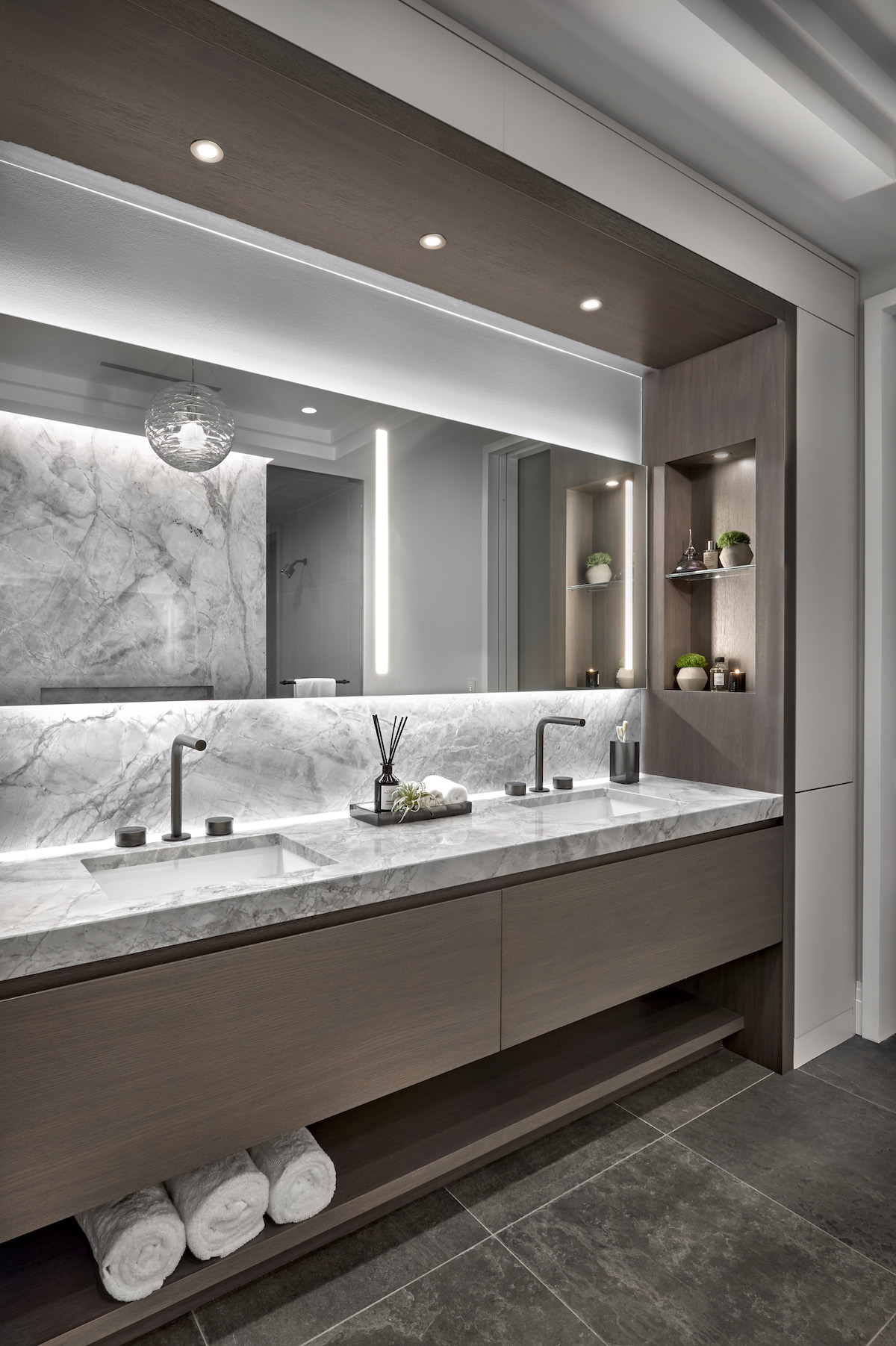 Photo Credit: Centaur interiors
The more details and visuals revealed about the home, the more it becomes apparent that CI's work does not merely have to do with the beauty and luxury of a home, but the practicality of the home as well. This residence is a perfect example of that. The several tailor made, bespoke pieces is just further proof that everything about the design of this home had the residents in mind.
For example, the view from the staircase will reveal a custom made light fixture which hangs from the third story of the home and perfectly dances throughout each level, undisturbed. The dining room is another great example of Michael's extensive knowledge of the family and their lifestyle. Considering that this family loves to entertain, the dining room table was designed to sit as a single unit, or it can become two separate pieces depending on the occasion.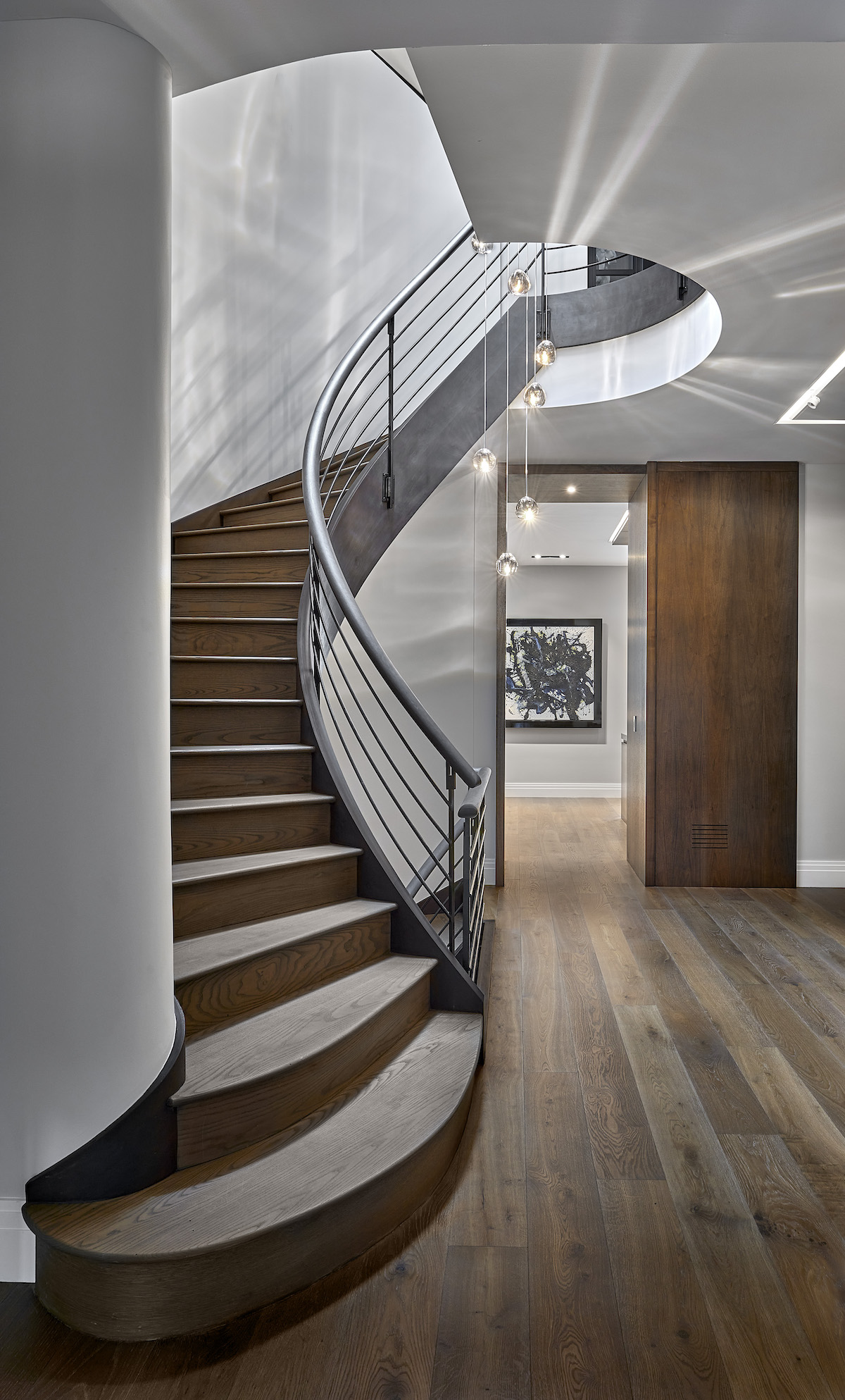 Photo Credit: Centaur Interiors
In other words, this family's fingerprints are reflected throughout the entire build and design of this home. However, do not think this to be the case just because Michael and his team have an existing rapport with the clients. CI makes sure to learn as much as possible about their clients' needs, lifestyle and more in order to design their perfect home.
"We included a smart home system which grants the residence total control over their surroundings and prevents what I like to call, 'wall acne'," Michael added. "The smart home system does not have too many switches and yet it controls, HVAC, lighting, floor heating, as well as the corresponding room's electric devices such as TV, music and more."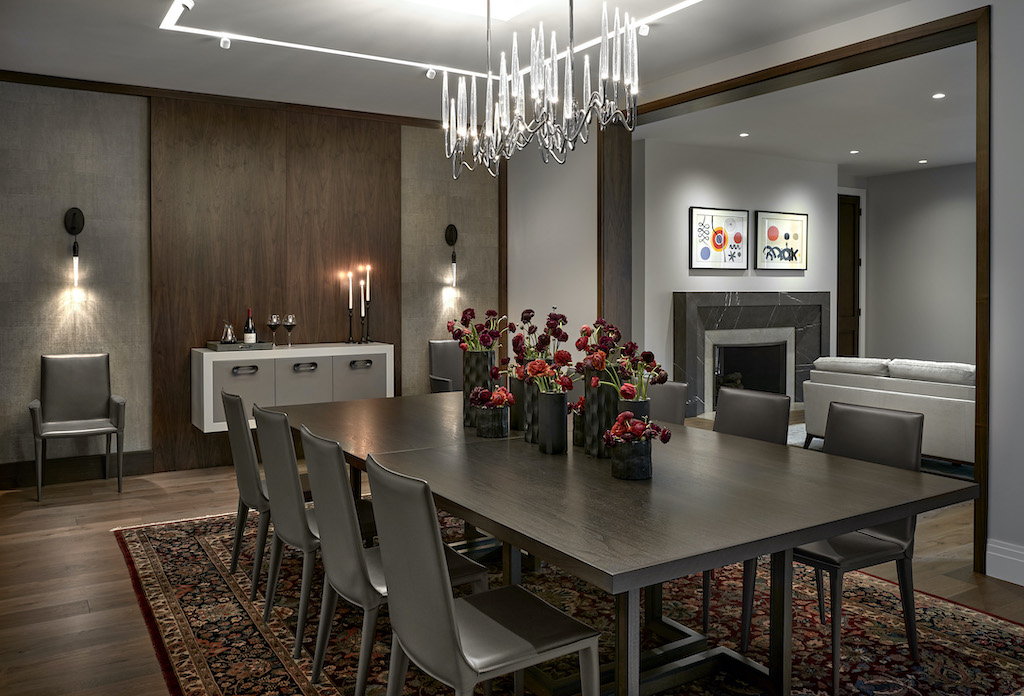 Photo Credit: Centaur Interiors