Jasmin Reese Interiors is a Chicago-based Residential Luxury firm that also services Naples, Florida. Founder Jasmin Reese's instinct is blending antiques with modern elements, dark finishes mixed with light, feminine tones contrasting with masculine, and high low pieces. Her signature style includes bold wallpapered ceilings that allow artworks to be at eye level and artfully designed "color bomb" rooms that are whimsical and sophisticated at the same time.
Photo Credit: Shin Photography
Jasmin Reese recently discussed her view on how to adequately use color in interior design projects and renovations.
Haute Design: How much does your artistic background influence your interior design?
Jasmin Reese: My artistic background definitely influences my interiors- from paintings, to vintage movies, books and travel. For instance, looking at vintage European train cars is a major inspiration for a custom closet on which we are currently working for a historic residence, and looking at images from the gym on the Titanic for a new gym with a whimsical scene, or looking at a Dutch still-life painting and using it to design an entire kitchen in moody hues but with rich finishes. It all starts with a Style Session where I pull images from a James Bond movie, or views from hotel lobbies that spark a conversation.
It is a genuine emotion/vibe that you can sense that we try to convey.
HD: With the rising trend of neutrals and minimalistic design, how do you show your clients that you can indeed have fun and use colors in your home?
JR: All-inclusive rooms are a lot of fun to incorporate even with a full house that is mainly white. Below, you can see a music room that is right off of the main entrance to the house - it is an encompassed room of green with kaleidoscopic wallpaper on the ceiling and the couple are both surgeons who find this music room calming and artful.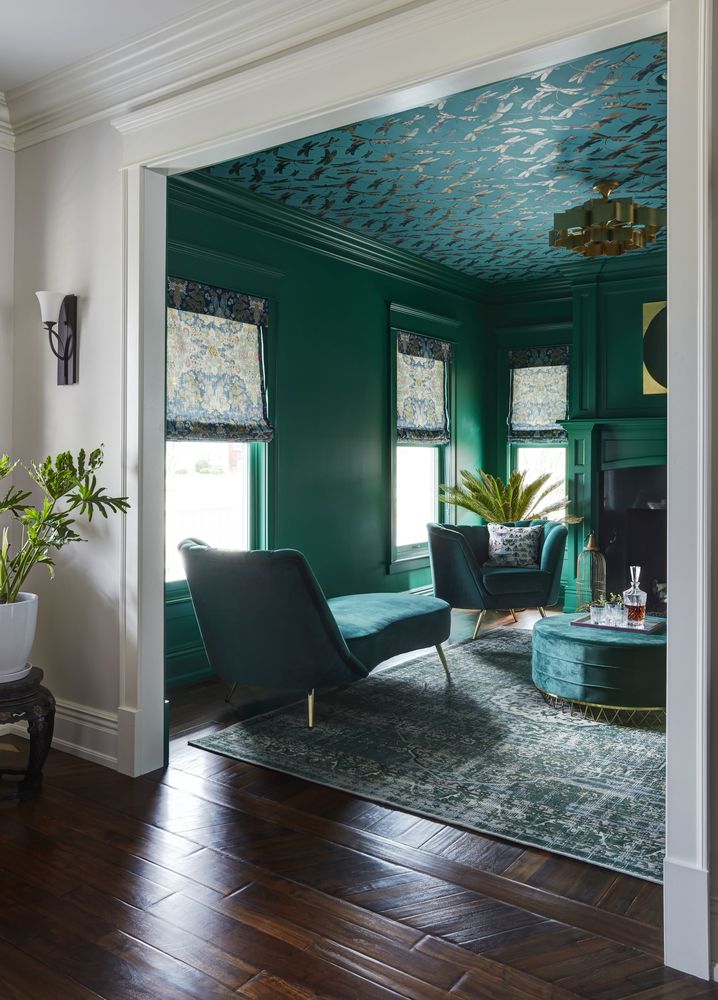 Photo Credit: Michael Alan Kaskel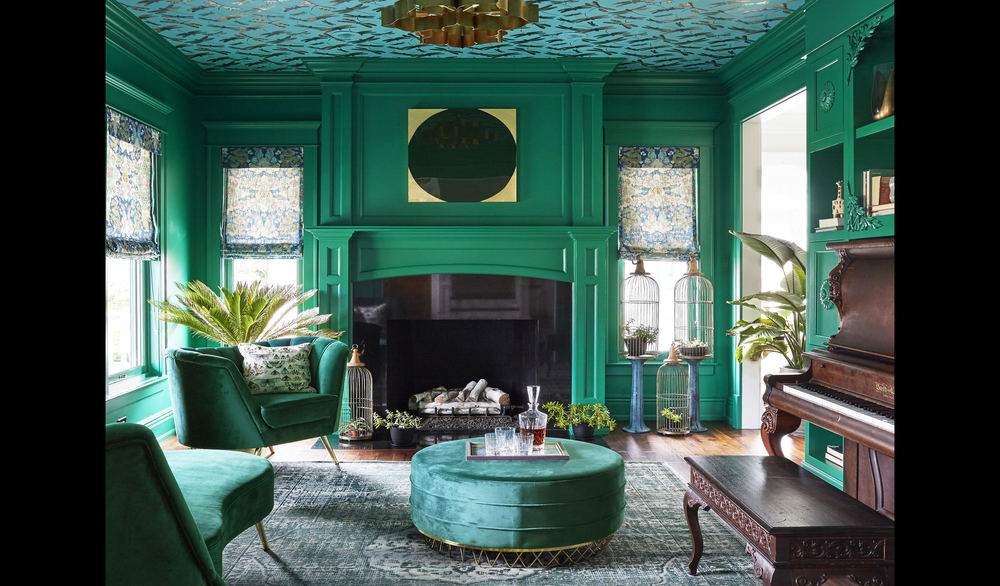 Photo Credit: Michael Alan Kaskel
Another example is to elevate the mundane with a bold neon color, like this chartreuse laundry room: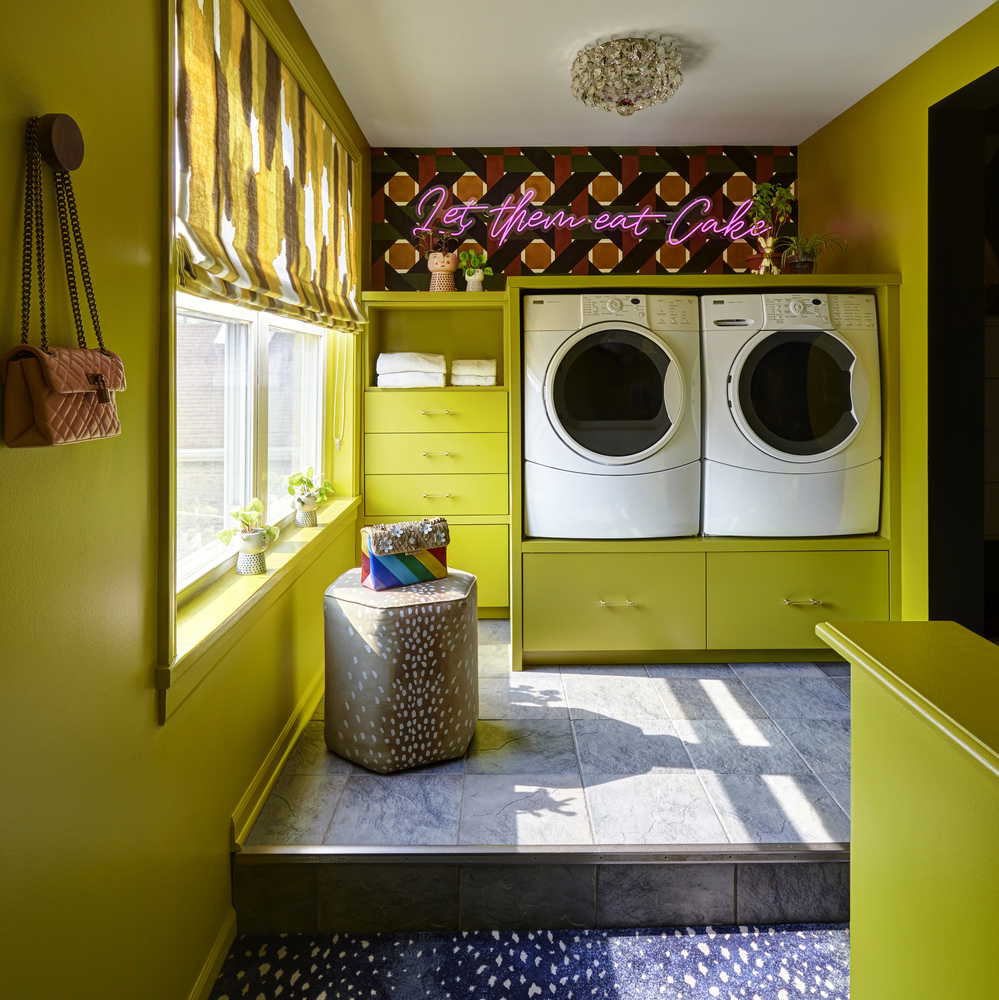 Photo Credit: Michael Alan Kaskel
Similarly, you can use color sparingly with just a bold gesture on the ceiling. If you cannot commit to bold moments, you can always accessorize like this styled dining room server: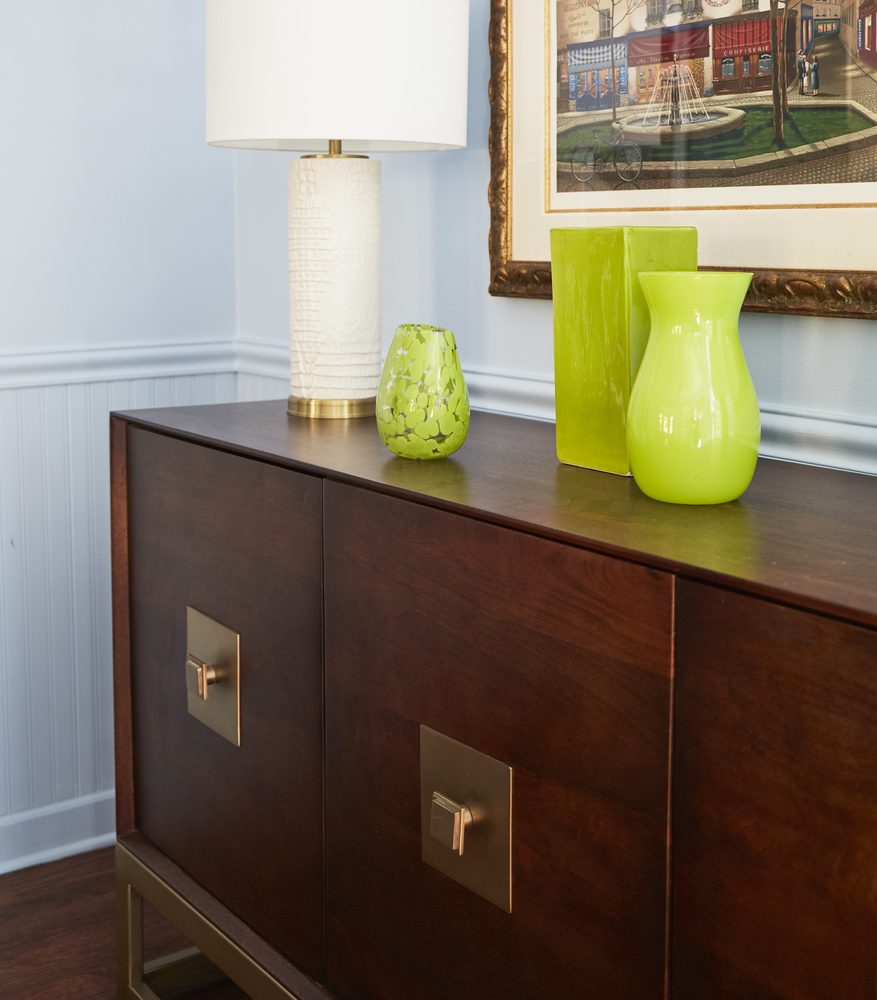 Photo Credit: Michael Alan Kaskel
HD: Do certain colors play better for different areas of a home? For example, what hues or tones work best in bathrooms or kitchens?
JR: I don't totally buy into certain colors only for certain rooms. In fact, I came across a blog once with my bedroom in red saying "what NOT to do" because it's "too aggressive of a color for a bedroom" when in reality, the client has house guests that adore this room, it is super cozy, and a lot of people have connected with the space.
I think color affects people differently - I painted my own kitchen cabinets blush, and then I have really modern black lighting, it's a push-pull of traditional and modern, feminine and masculine that gives the space verve.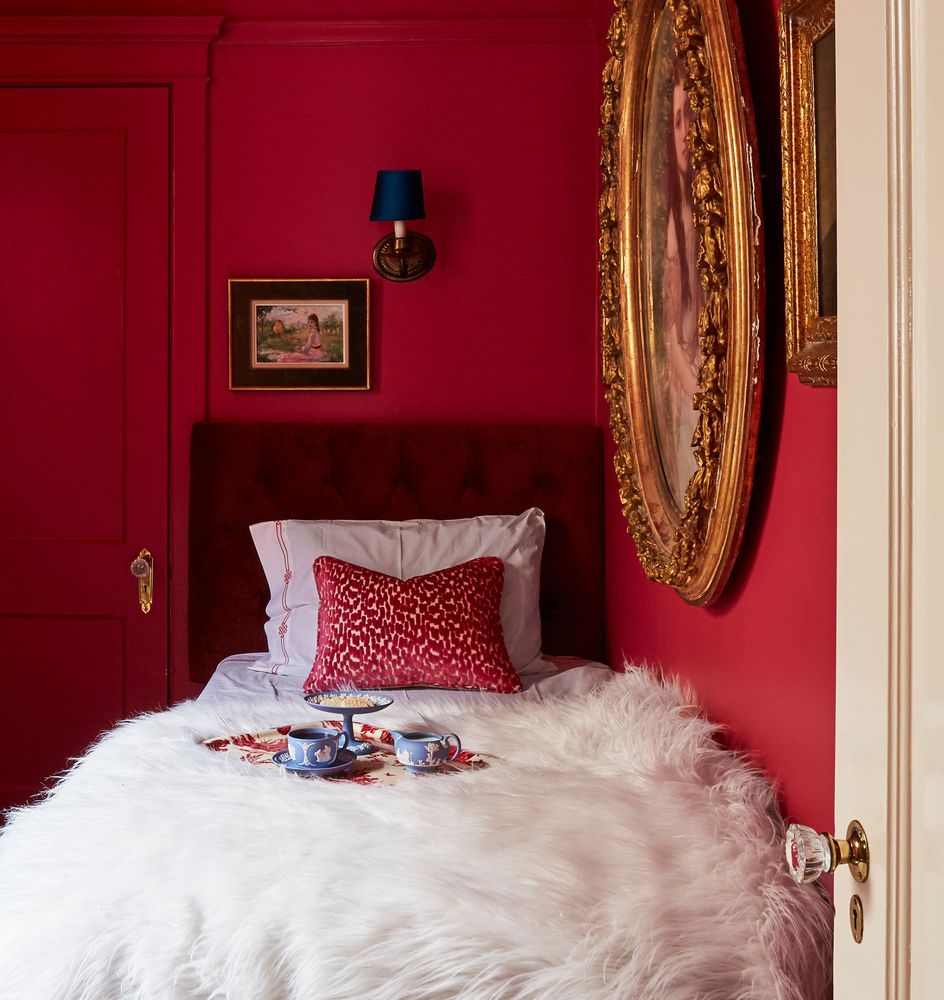 Photo Credit: Michael Alan Kaskel
HD: How much artwork is too much artwork inside someone's home?
JR: It really depends on the scale of someone's home and the quality of the art. If they have high ceilings and beautiful pieces, you can pack them in Salon style, mixed with high quality furniture for a layered look. However, if you take the same space and put in terrible cheap prints it could look like a lifeless commercial space.
HD: Which area of the home have you realized clients are most willing to take a risk and really go for some daring artwork or bold colors?
JR: Interestingly enough, the powder room is the room in the house where your guests are completely alone. It's a space they will definitely go and you can use any color, any style, ANYTHING and have it completely unrelated to the rest of the home. The monkey wallpaper below is sophisticated whimsy.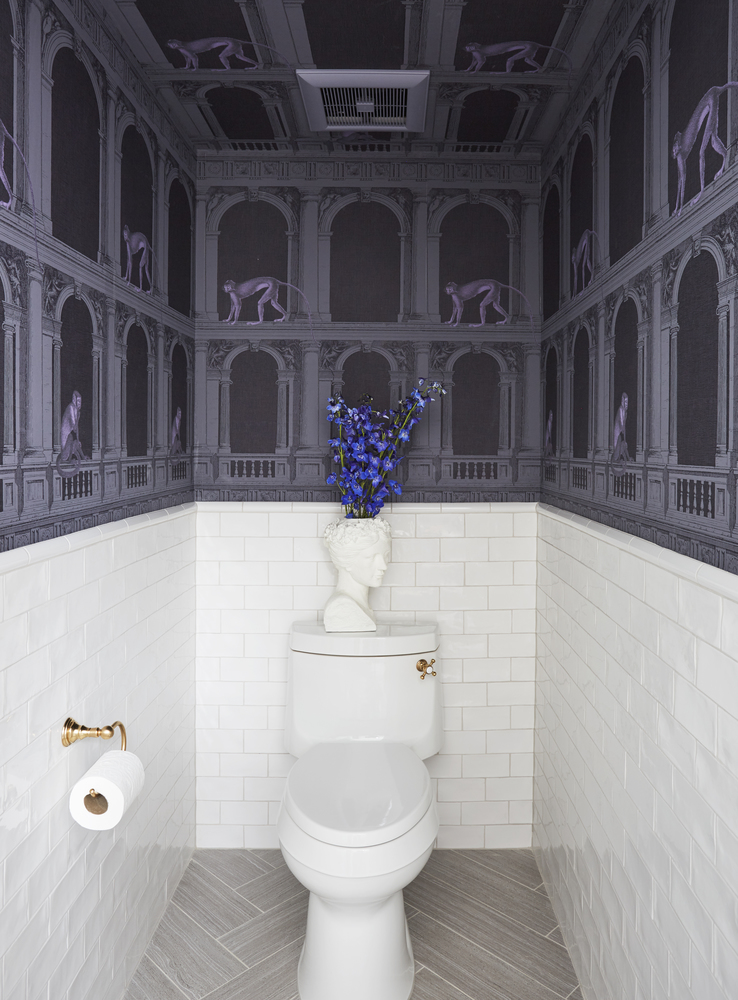 Or you can go a little more edgy. Basements can also be a fun theatrical space like this jungle-inspired basement: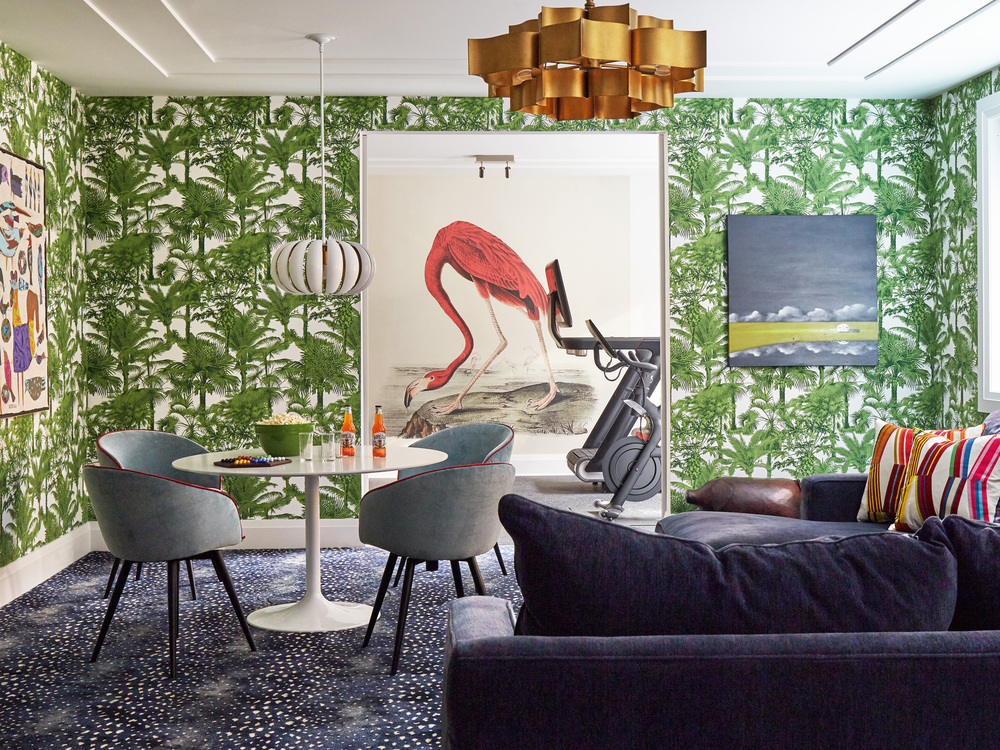 Photo Credit: Michael Alan Kaskel
Furthermore, you can take an old attic like this picture below, and convert it into a screening room: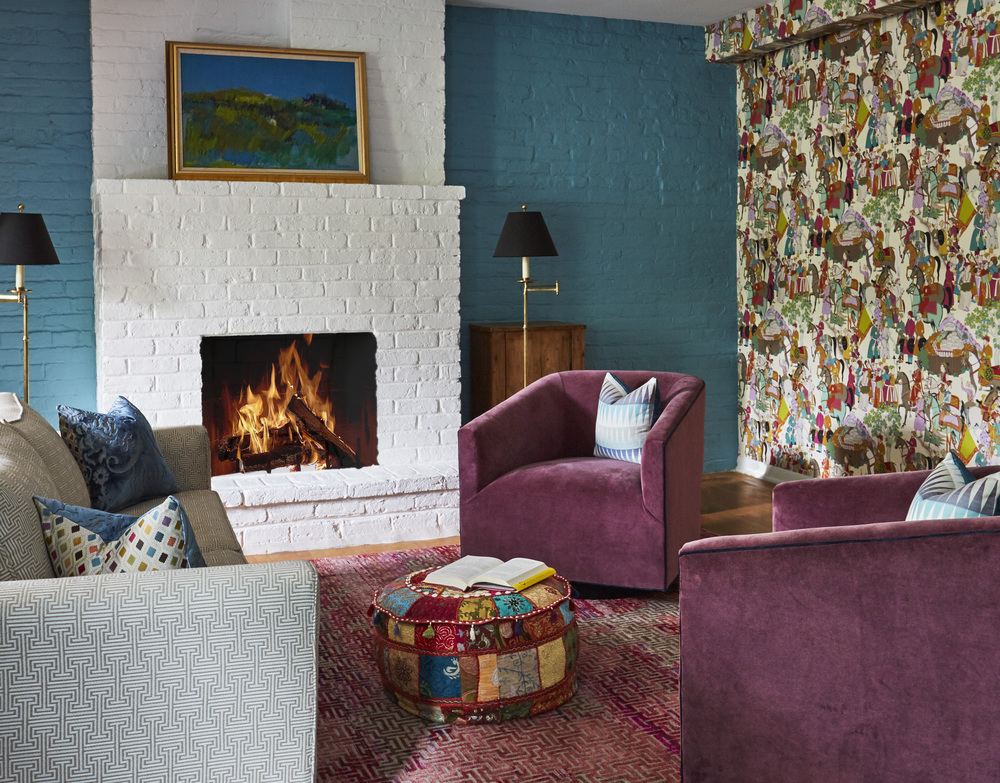 Photo Credit: Michael Alan Kaskel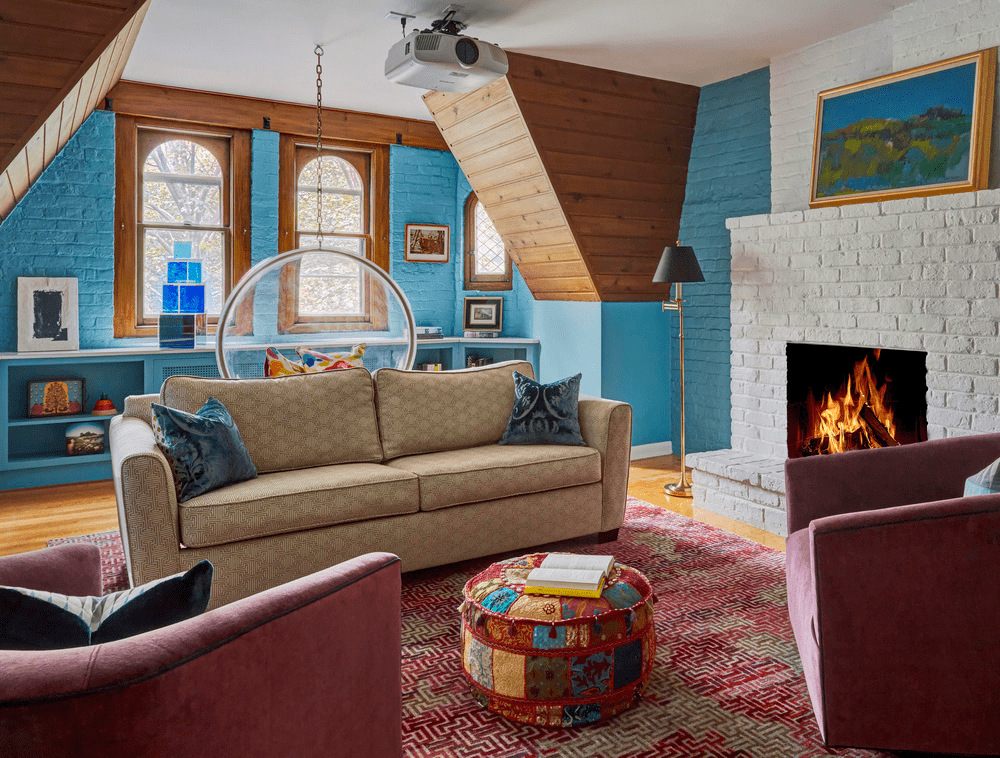 Photo Credit: Michael Alan Kaskel