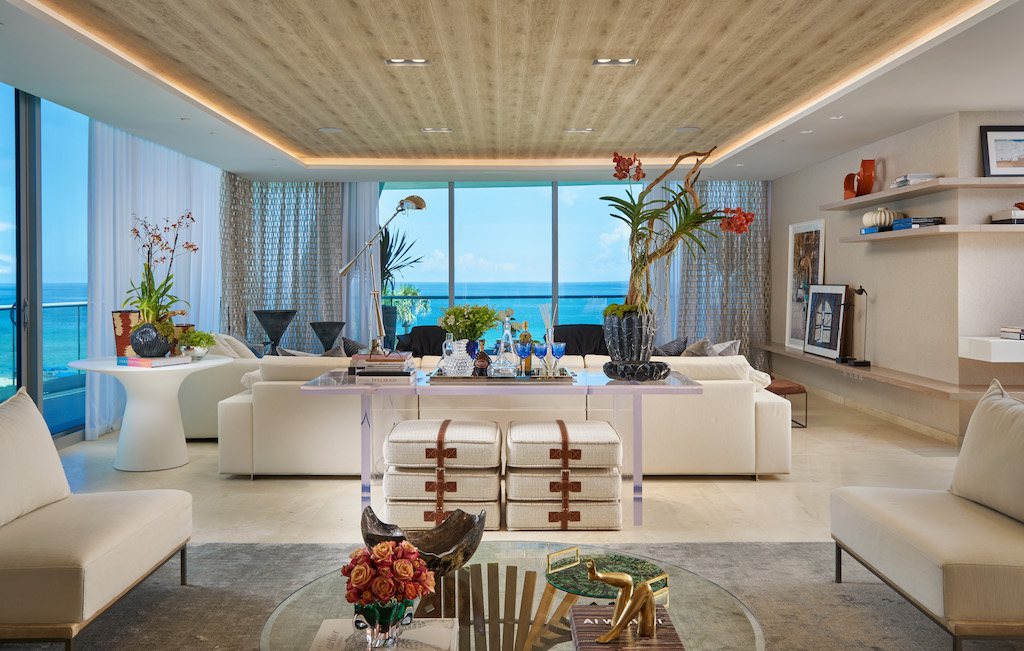 Photo Credit: Barry Grossman
Minimalist design does not mean boring or basic. It may appear simple, but that's just an optical illusion architect, designer, and artist Luciana Fragali has been perfecting for decades. The Brazilian-born designer produces exceptionally luxe spaces as a result of her innovative way of thinking and the unique materials and techniques she utilizes. "A project is not about decorating, but about figuring out the DNA of a space," she says.
For this 7,718-total-square-foot oceanfront residence at Surfside's Fendi Chateau, Fragali was tasked with giving this 5 bedroom 7 bath home a relaxed feel while emulating elegance and grandeur. The clients, who she met when they popped into her Miami-based architecture and design firm Design Solutions, had purchased this residence as a second home but while they knew they wanted warm and cozy elements – had no idea how to achieve it. Fragali's architectural background and experience made her the perfect choice. Plus, she shared the clients' appreciation for a minimal aesthetic that encompasses a sense of timeless beauty. "Clients know I'm going to give them a home that's a reflection of their needs, personality, and culture," she says.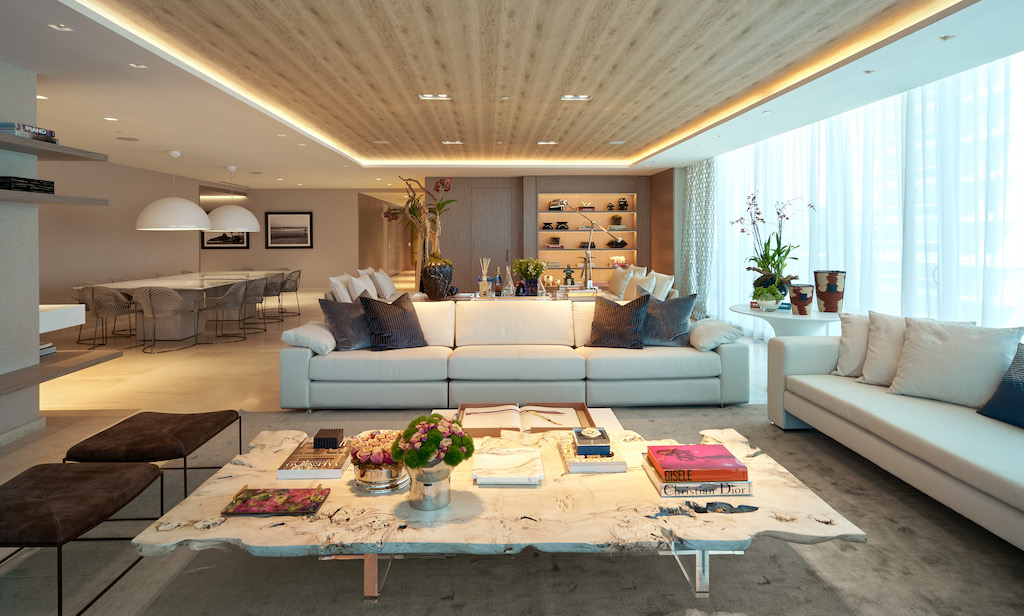 Photo Credit: Barry Grossman
Although the owners appreciated the high-rise building's modern architecture by famed Florida-based firm Arquitectonica, they preferred a softer design for their own space. To set the tone from the outset, Fragali covered the walls in the foyer and great room—which contains the living and dining areas—with a mixture of fluted and non-fluted wooden panels. "It adds a softness, but it still has strength," she says. The warm, tactile result counters the modern edge of the gleaming terrazzo marble flooring.
Inside, Fragali pays homage to the cerulean ocean and verdant landscape with a limited yet sophisticated natural palette of materials and colors. Leather, linen, glass, walnut, light, and shadow all take center stage here without visually competing. To add symmetry and simplicity to the unit, Fragali designed an elaborate system of invisible doors. The flawless systems seamlessly integrate into space so that they disappear when not in use. In the living room, she created a custom recessed wood ceiling in a sharp-edge architectural design that resembles delicate pieces of origami with integrated LED lighting as a way to make them seem higher.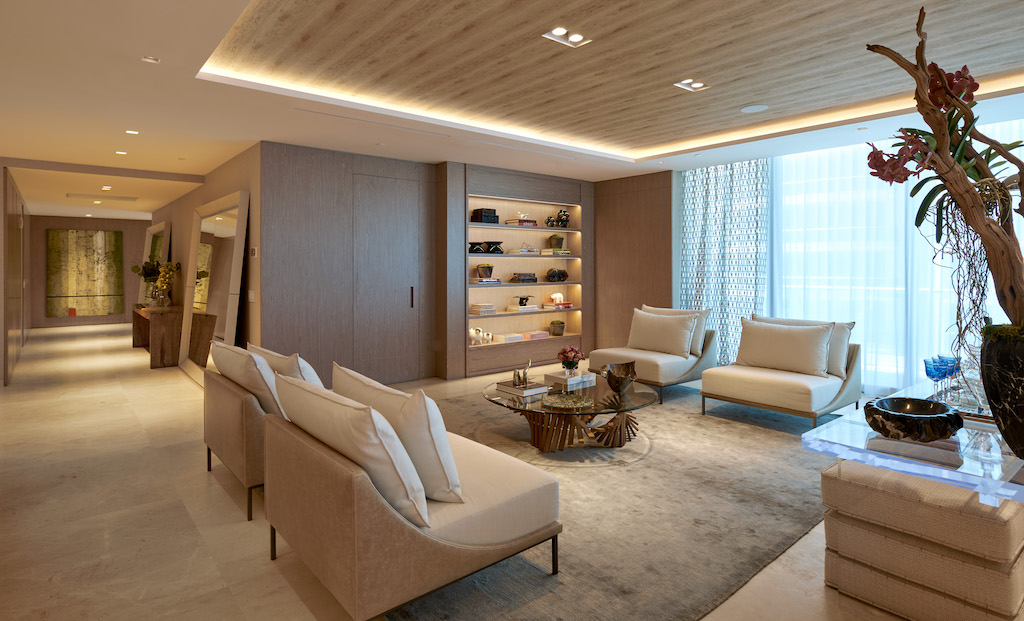 Photo Credit: Barry Grossman
Throughout the home, furniture is sourced from all over the world and from trusted partners such as Baxter, Poltrona Frau, and Artefacto. Unique pieces from these stores were responsible for adding that much-needed charm for example the statement piece selected for the ocean-facing living room displayed Artefacto's natural wood coffee table, perfectly accompanied by Poltrona Frau's Archibald lounge chairs – offering the perfect combination of substance and form. For Fragali, the dining room is the heart of the home. Here, she chose an oversized white lacquered table paired with Artefacto's white leather- Infinity chairs that seat guests in the center of it all. Imagine a stunning display blooming above you, enter two Sky Garden pendants making a powerful impression with their sheer size- standing beneath it, you will see the intricate design that gives this piece its name.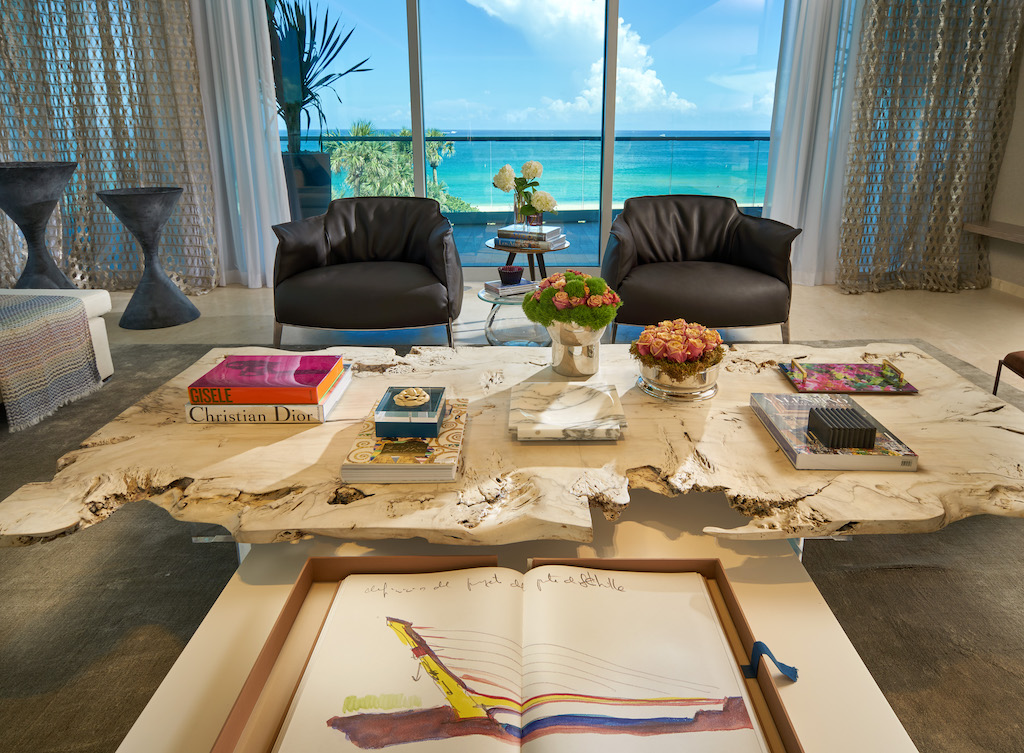 Photo Credit: Barry Grossman
The unit has a flow-thru plan from east to west, which allows the clients to enjoy both Atlantic Ocean views and western sunset views over the bay and Intracoastal Waterway. In the hallway leading to a masterfully designed family room, Fragali strategically placed a full-length mirror resting on wooden panels for depth accompanied by captivating artwork emitting tranquility and charisma. Emerging from this enchanting corridor you will be met with a modern yet earthy fashioned family room where earth tones take center stage. "Earth tones are inviting, relaxing, and lend well to a lot of different decor styles. The best part about earth tones in decor is you can switch up your decor easily without removing the bulk of your furniture." Says Fragali. Earth tones are usually browns, beige's, greens, and grays. When done right you can have a contemporary, modern, or bohemian room look well put together and be a relaxing environment. The trick is to keep almost everything neutral but to have just a few things that stand out. Here Fragali used the fierce crimson red offered by Lumen's Twiggy floor lamp for that pop of color while also relying on textiles, fabrics, and accessories to tie in the room.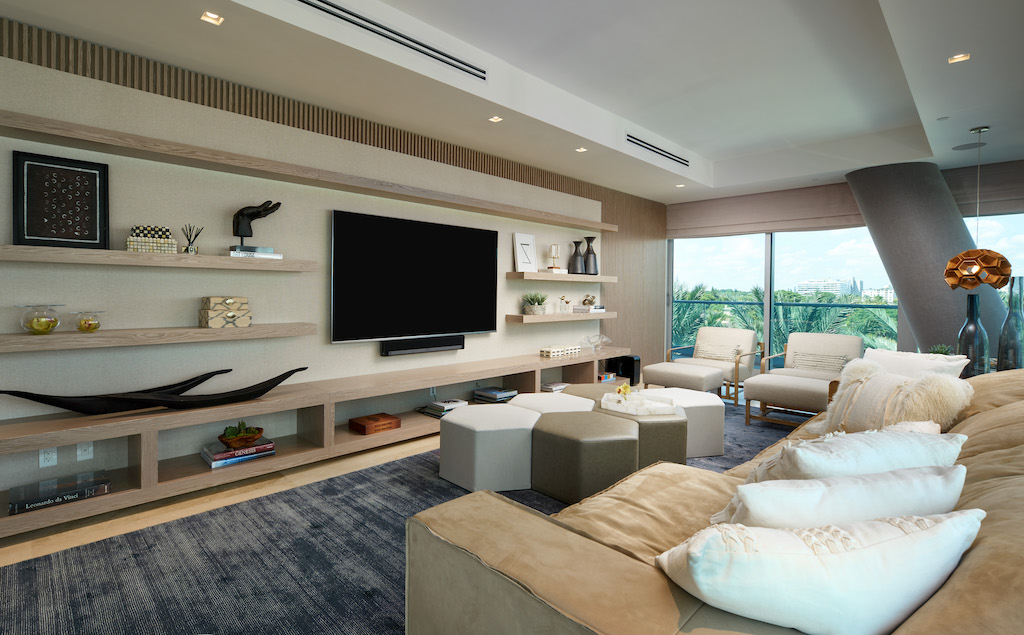 Photo Credit: Barry Grossman
When asked to design the ultimate tv wall unit Fragali turned to her trusted millworker Diego Fulia of Fulia Inc, after 15 years of partnership – he was able to anticipate her needs and fabricate exactly what Fragali envisioned. Using a mixture of textured wallpaper, fluted wood panels, and natural wood for shelves this vision came to life – add the accessories and what you ultimately have is a family room your guests won't want to leave and two exceptionally delighted clients left to enjoy sunset views over the bay.