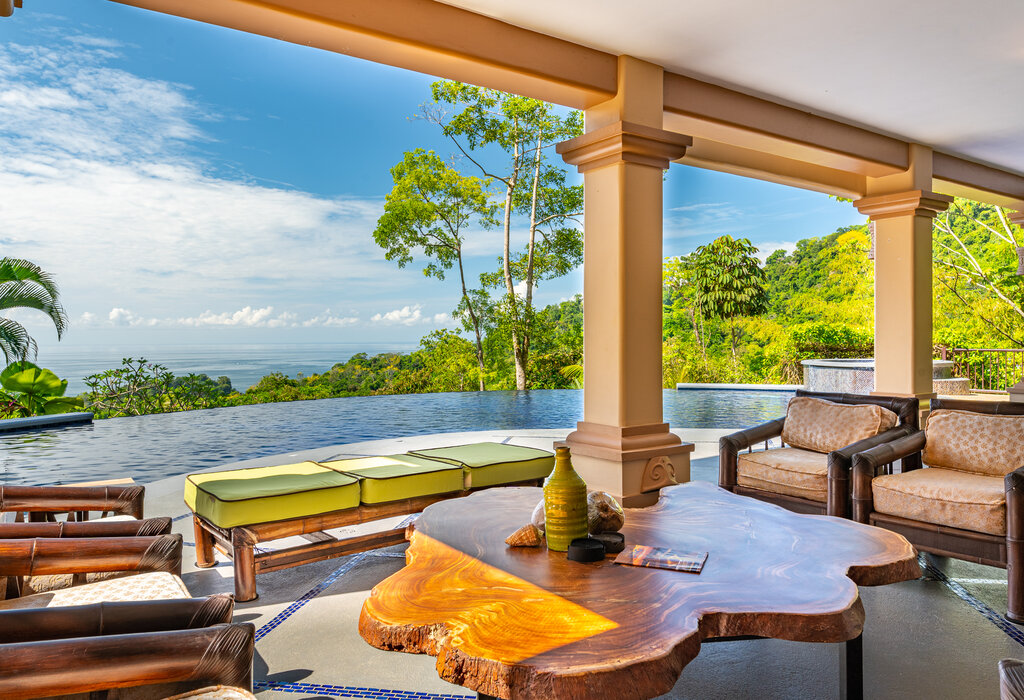 Blue Zone Realty International presents
SOLD!
Terming the phrase "Responsible Luxury" at Villa Mareas:
Villa Mareas is an idealistic corporate or private retreat property, boasting luxurious accommodations which are renowned for their luxury, both in design and function. Situated on 36 acres of primary and secondary rainforests, this iconic property is the ideal location for those who wish to preserve the rare and at-risk trees that are established on the estate, and those who wish to protect the vast wildlife that is flourishing and thriving in this location.
Carefully constructed at the end of the road in one of the most sought after locations in the Southern Pacific region of Costa Rica, Villa Mareas has done a remarkable and admirable job of protecting the primary rainforest that survived the clear cutting of the 1970s and replanting countless indigenous hardwood trees, and thousands of fruit and flowering trees. A recent forestry study and wildlife survey has confirmed that Villa Mareas is a capsule in time of lush, rich rainforest and birds and animals that are in danger of losing their natural environment in neighboring communities.
Villa Mareas is bordered by a 200-acre preserve on its northern border which reaches much higher altitudes than this amazing estate property does. The preservation work and the commitment of the owners to ensure responsible management of this natural treasure has created a corridor for several bird and animal species, as well as a safe haven for the numerous species of birds, cats, and monkeys who thrive at this slightly lower altitude than the bordering 200-acre preserve.
The Main Villa rules over the estate with the class of an exotic country club. You are greeted by the vaulted mosaic barrel ceiling of the entryway, which leads you to the great room with its vaulted teak wood beam ceiling with chandelier. On the ground floor sits a sunken lounge area with a handcrafted wooden bar, a quiet reading nook, as well as indoor and outdoor dining areas. The professional kitchen is fully equipped with all appliances, granite countertops, and dehumidified pantry. A covered BBQ grill area is connected to the outdoor dining area. The second floor holds two rooms, currently used as a spa room and office, as well as a yoga pavilion and ocean view area.
Address: Uvita, CR - 60504
Price: $3,490,000 USD
Photo credit: Brad Dean
For more information please contact Blue Zone Realty International at (506) 8446-0275 or tim@bluezonerealty.com
Blue Zone Realty International is the exclusive agency representing the Costa Rica real estate market as a member of the Haute Residence Real Estate Network. View all of their listings here.